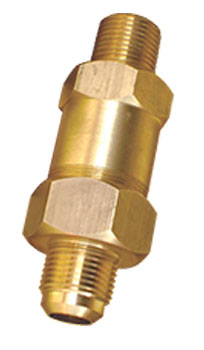 Pressure Relief Valve
Application
Pressure relief valves are Compatible with all CFC, HCFC and HFC Refrigerants and oils and other Industrial gases and fluids non-corrosive to steel and brass. (With suitable Gland/Seal).
Construction
Valve Body: Extruded Brass.
Valve Cap : Forged Brass
Spring: Stainless Steel
Seat Material: Neoprene/Teflon.
Machined parts: Extruded Brass.
Design
Pre compressed special grade SS Spring provides unchanged tension for life of Valve.
Pre stressed virgin seat material improves accuracy of pressure ratings.
Designed for quick Discharge and immediate shut down.
Available in pressure Range from 150psig – 450 psig.
Pre set on imported accurate pressure gauge.
Working Temperature range is -30°C to 100°C.
Installation.
Inspect valve and Install only if factory seal appears untampered.
For leak tight sealing use Torque wrenches set at 30 Lb.Ft and ensure that Female thread is exact match.
Shelf life of Valve is 18 months from date of manufacture. Beyond this period if unused return valve to Factory for recalibration.
We recommend replacement of the valve after it pops open. It may not open again at preset pressure on account of Debris impregnation in seat and ageing of seat material.
Under no circumstances open the seal and try to reset the valve as it needs special tools and trained technicians.